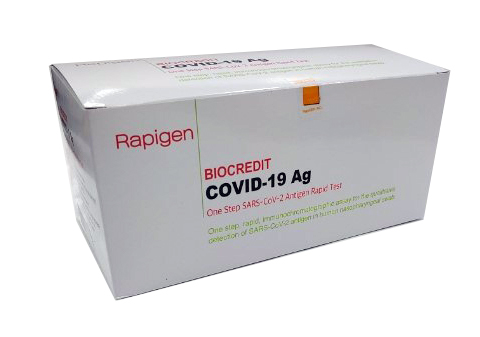 BIOCREDIT COVID-19 Rapid Antigen Test Kit
Product Code: Contact us directly.
Key features of the BIOCREDIT COVID-19 Ag tests:
– 93.05% sensitivity and 99.05% specificity
– Detects multiple COVID-19 virus variants including Delta (B.1.617), Alpha (B.1.1.7), Beta (B.1.351), Epsilon (B.1.429), Gamma (P.1), and Indian Variant (b=B.1.618).
– Easy to interpret, Pos / Neg results
– Result in 10~15 minutes.
– Point of Care (POCT) diagnostic test that requires no other equipment
– Convenient Test as everything required is in the kit.
ARTG#365551

Contact us directly:
T +61 (0)3 9702 3766
Contact: Andrew Hickman
Haemokinesis Sponsored Rapid COVID-19 Antigen Test Leaflet
This product is not available to be purchased by, or supplied to, the general public. The product can be supplied to medical practitioners, health care professionals in residential and aged care facilities, accredited pathology laboratories, and Federal, State and Territory health departments. Refer to the Product Details and Limitations for important information in relation to the use of this product and results produced by using this product.
This website is intended for health professionals resident in Australia and may contain information on pharmaceuticals, medical devices and other products or uses of those products that are not approved in other countries or regions. Please be aware that we do not take any responsibility for accessing such information which may not comply with any law, regulation, legal process, registration or usage in the country of your origin.